Unsealed Asphalt Parking Lots and Driveways Breakdown and Deteriorate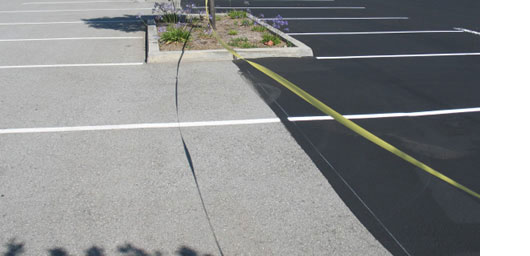 The sun's ultraviolet rays bake the essential strength and flexibility properties out of asphalt, leaving it brittle and full of hairline cracks that make the surface vulnerable to water invasion. Aggregate ravels from the surface and the pavement becomes rough. Water penetration enlarges cracks and the freeze/thaw cycles add to the breakdown.
Further surface deterioration occurs from gas and oil leaks that soften and pit the asphalt. These stained areas combine to give an unsightly and uncared-for look to a faded surface.
Sealcoating Your Parking Lot or Driveway Can Double the Life of Your Asphalt

SEALCOATING PROVIDES SUN BLOCK
Sealers prevent asphalt surface oxidation by forming a tough, protective outer skin.

SEALCOATING WEATHERPROOFS
Sealcoating seals the porous asphalt surface, preventing damaging water penetration.

SEALCOATING RESISTS OIL AND GAS
Sealers protect asphalt from the deteriorating effects of gasoline, oil, de-icers, and other harsh chemicals.


SEALCOATING RESTORES APPEARANCE
Sealers provide the jet black finish and fresh, new appearance. Improves the image of any property.
SEALCOATING IS LOW MAINTENANCE
Sealers provide a smooth, even surface that facilitates cleaning and maintenance.

SEALCOATING SAVES MONEY
Avoid an expensive asphalt replacement bill by spending a few cents per square foot on sealcoat protection.

Call us at (616) 457-0457 or Request an Estimate to Sealcoat Your Parking Lot or Drive